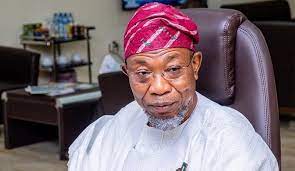 By Inwalomhe Donald
Rauf Aregbesola as Governor of Osun State came up with progressive intervention policies to provide guidelines for his administration as it relates to ensuring compliance and performance in Osun State.
As Aregbesola marks 64 years birthday, non progressive in Osun State are worried over his rising profile as former governor and as present minister of interior. Aregbesola has become a target of smear campaign recently because of 'his rising profile in Osun that is difficult for anybody to match. National Bureau of Stastics NBS has proved Aregbesola's relevance in the progressive intervention policies that have lifted numerous people of Osun State from poverty. NBS reported from 2010-2019 how poverty rate was progressively reduced under Rauf Aregbesola as Governor of Osun State.Aregbesola's performance in Osun State could be compared to that of Ignacio Lula da Silva who as President of Brazil pulled more than 40 million people out of poverty in eight years.Rauf Aregbesola as Governor of Osun State pulled over one million people out of poverty despite the fact that the scarce resources available to him as governor was grossly inadequate. Infrastructural development and human capacity development received a boost during Aregbesola's administration which made him relevant in progressive intervention policies in the political transformation of Osun State. Aregbesola has developed progressive agenda on the direction of social democracy in Osun State.
Consistently Osun State has been placed between 1st and 3rd positions among the wealthiest states in Nigeria from 2015-2020. Critics have accused Rauf Aregbesola of putting Osun State in debts, how comes that National Bureau of Statistics now placed Osun in 3rd least poorest state position? National Bureau of Statistics since 2016 has proved Aregbesola's crtics wrong in Osun State. Osun had the lowest net Federal Account Allocation.  National Bureau of Statistics released the NIGERIA POVERTY INDEX 2019 by states. Following the giant strides of former Governor Rauf Aregbesola. Osun did well in 2016, took 2nd in 2017, took 1st in 2018 and 3rd in 2019.
In reality, Aregbesola's educational policy cannot be reversed. The indices are clear. You can adopt few changes but you cannot reverse it. Some people are making political statements about it. In Nigeria, there are about 16 million children that are not in school, even though primary education is officially free and compulsory. And though many projects have been made to reduce this frightening figure, it seems Nigeria is nowhere near tackling this issue which poses social and security problems to the whole country.
But in Osun State with strategic investment Rauf Aregbesola eliminated out of school children in Osun State. Aregbesola introduced educational reforms after wider consultations that eliminated out of school children. With lean resources and strategic educational reforms like school feeding, single school uniform and school merger, out of school children were eliminated in Osun State. Strategic schools were built in Osun Central, Osun East and Osun West that eliminated out of school children. The schools have accommodated the children of the poor people who were out of school. The recent education reversal politics is not a policy and it does not aid teachers-students in learning. Aregbesola's educational reforms drawn experts from all over the world which made recommendations that led to the elimination of out of school children.
The Minister of Interior, Ogbeni Rauf Aregbesola won the Nigeria and Africa Development Indicators Monitoring (NADIM) Foundation 2018 outstanding leadership awards. NADIM in its book, Development Performance Ranking of Nigerian States and Monitoring of Africa written by Prof. Ibrahim, ranked Osun the Overall Best State in Development in Nigeria for the period under review (2009-2013).
In recognition of his work in Osun State Nigeria & Africa Development Indicators Monitoring (NADIM) Foundation led by its founder, Prof. Taofeek Ibrahim presented the NADIM 2018 Outstanding Leadership Award and 8 others in different categories.
The World Bank, UNDP, UNICEF and Africa Development Bank in 2018 also gave their verdicts of the 8 years of Aregbesola's administration in Osun State. On the heels of concluding two terms as the governor of Osun State, Rauf Aregbesola received accolades both from Nigerian and non-Nigerian institutions and not social media, and from reputable international organizations which includes the World Bank, UNDP, UNICEF and African Development Bank.
Report from the United Nations Development Programme. UNDP, with verifiable facts from the National Bureau of Statistics (NBS), placed Osun as the state with lowest poverty rate. The World Bank also commended his government over the execution of projects of Osun Rural Access & Mobility Project which are World Bank and French Development Agency assisted Projects.
Indeed, history will remember Aregbesola for four major developments in Nigeria; school feeding programme, sukuk bond for national development, the first governor to embrace fourth industrial revolution and great reduction poverty.
The African Development Bank (AfDB) hailed the Aregbesola administration in Osun State for economically developing the state through the implementation of its people-oriented policies and programmes and scored the state high on its social investment programmes.
As minister of interior, Aregbesola is presently carrying out several reforms which will be another topic for me to discuss at a later date.
Inwalomhe Donald writes from Osogbo, Osun State