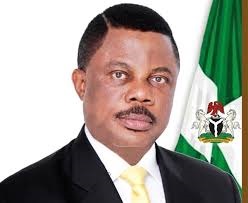 For allegedly issuing certificate of  recognition to the traditional ruler of Awkuzu, Oyi Local Government Area, Anambra State, His Royal Highness, Igwe Prof. Charles M. Anikweze, by the State Government despite allegation by aggrieved faction, (elites and professionals), that his enthronement was faulty as due process was not followed, the aggrieved faction has through its counsels, Joy Nzekwe and Raphael O. Nzekwe, served the state government with pre-action notice.
The group, represented by Emeka Chinweze, Emmanuel Ifeanyi Anizoba and Mr. Mbazuluike Akwubu, served the pre-action notice through the Secretary to the State Government, (SSG) Solo Chukwulobelu,, demanding the immediate withdrawal of the certificate of recognition issued to the monarch by the state government failure which they vowed to sort reliefs in court.
According to them the reliefs to be sorted in court include, a declaration that the monarch is not the traditional ruler of Awkuzu, an order of court compelling the defendant (government) to withdraw the certificate of recognition it issued to the monarch and an order restraining him from parading himself as the traditional ruler of the community.
They reiterated that the monarch was issued certificate of recognition on 2nd day of May 2019 without following the process of selection, approval, installation and coronation as stipulated by the Awkuzu chieftaincy constitution 1992.
The pre-action notice read in part thus: "the Awkuzu chieftaincy constitution 1992 was not followed during the purported selection of the monarch. The approval process was not done at all, there was neither installation nor swearing in because the process of selection was faulty and other procedures were not complied with"
*Ndi Ichie and executive of Awkuzu Progressive Union, APU, who were supposed to select him (monarch) challenged his occupation of the Traditional stool because none of them participated in the kangaroo selection done by those not recognised by constitution.
The Okpala Awkuzu did not coronate him and did not also issue him with 'offor' Awkuzu. The APU neither issued him with staff of office nor administered any oath of allegiance and oath of office which were supposed to be done at the public square"
"One of the members of Ndi Ichie, filed a suit at Otuocha High court, suit No. OT/235/2027, Ichie Ignatius Ananti V,  Dr. E.C.Chira and 9 others. The monarch was the 6th defendant in the suit and the court nullified the process of selecting him (monarch)"
"This letter serves as a pre-action notice to your office in line with the state procedings' law as our clients shall not hesitate to ventilate their grievances if nothing is done urgently to withdraw the certificate of recognition issued by your office to Igwe Anikweze. Same has been nullified by a court of competent jurisdiction" they recalled to the SSG. END