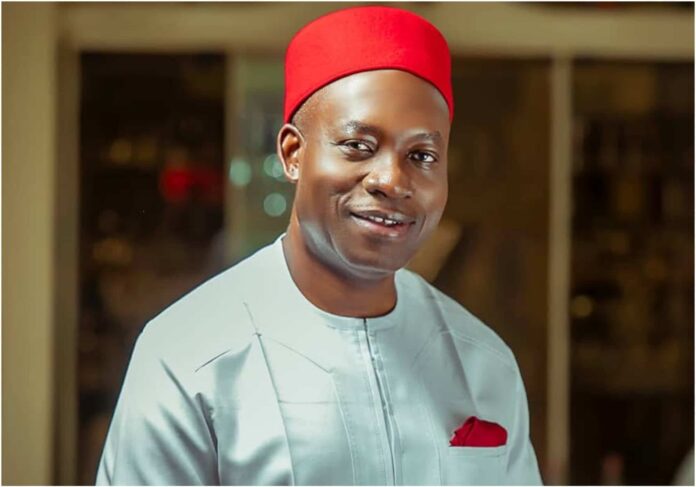 The Labour Party, LP, senatorial candidate for Anambra Central Senatorial District, Chief Victor Umeh, Umeh threatened legal action against the state government if the billboards belonging to the presidential candidate of the party, Mr Peter Obi and other candidates of the party were not restored any time soon.
The campaign billboards of Obi and Umeh which were erected at the Nnamdi Azikiwe University, (UNIZIK) temporary site junction in Awka, the state capital were on Saturday dismantled by Anambra Signage and Advertising Agency( ANSAA).
The Managing Director of Anambra Signage and Advertising Agency( ANSAA), Mr Tony Ujubuonu who confirmed the removal of the billboards said on Saturday said that the state Governor did not give the order for the removal as stated in some quarters, but that the action was taken over non payment of campaign fees.
He said, " If you recall in August, we sent out a message to all political parties to pay up their campaign fees. There was a lot of hullabaloo about it. None of them has paid their own. So most of the parties that have not paid theirs that have adverts on government assets were removed. It has nothing to do with the governor. Governor didn't give any order for that.
"They didn't pay the campaign fees and we spoke to their media heads several times; we informed them about the enforcement, and they haven't paid it so we decided to take down the advert. It has nothing to do with the governor."
But Umeh in his reaction on Sunday said the state government had no power in any extant law to regulate electoral processes, stressing that was the sole responsibility of the Independent National Electoral Commission (INEC).
He described the development as undemocratic and unconscionable, saying, " There is nothing like campaign fees under the electoral law. No state government has a right to impose any fee on any candidate before he could campaign. There is no such law in Nigeria and no such law either in Anambra State passed by the State House of Assembly.
"If Soludo makes an executive order of humongous fees of N10m, N7m, etc before one could campaign in the state, that's against democracy. You can't prevent somebody from campaigning with arbitrary fees."
Recall that some months back, the state government placed a public notice announcement stating that presidential candidates would pay N10m , senatorial candidates would pay N7m, House of Representatives candidates would pay N5m and state House of Assembly candidates woukd pay N1m as campaign fees.
He said he had paid about N4m to his advertising agencies for billboards who accordingly had paid to the ANSAA the required fees for outdoor adverts.
Umeh further said, "It's INEC that sets rules for campaigns not state governments. State government doesn't conduct elections. You can't tax a candidate of a political party to pay a state government before he can campaign. No other state does that except Soludo's state. Who did Soludo pay campaign fees to in 2021 when he contested for governorship.
"We are considering legal action. I have told the advertising agent to write to the state government to restore the billboard because it was a contract signed with them and I paid them full and they paid ANSAA appreciately. Why should Peter Obi pay N10m to Soludo before he could campaign in Anambra; Umeh to pay N7m?
"There should be nothing on the way of any candidate to campaign to look for votes under the Electoral Law. What Soludo is doing is illegal. No government has a right to tax any candidate to pay in any money before he can campaign. What he is saying that if you can't pay N10m or N7m you can't campaign after being nominated by your party to contest election for them.
"It's illegal to tax any candidate by the state government before the candidate begins to campaign. Matters about campaign are regulated by the Independent National Electoral Commission. Government has no hands in regulating political parties'campaigns. No government has a right to place tax on any candidate for campaigning. Campaign is an open and free thing to solicit for vote. Government cannot say that before you campaign for an office you have been properly documented by INEC you have to pay fees."
On his part, the advising agent who mounted the Unizik LP billboard said, " The issue there is not about money. Somebody told me about two day ago that Soludo wants to remove all OBIdient billboards and replace them with APGA billboards."