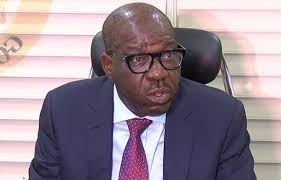 . Vows to boost security, protect Edo people, communities from future attacks
The Edo State Government has said that it will not cede any part of its land for grazing cattle in the state.
In a statement, Secretary to the State Government, Osarodion Ogie Esq., said that the government's position on the matter is clear and has not shifted since it insisted that it would not cede its land to herdsmen.
According to him, "Our attention has been drawn to misleading and false media reports claiming that the Edo State Governor, Mr. Godwin Obaseki, has agreed to provide grazing land for herders in the state.
"Our position on the matter of grazing land is clear and has not shifted, which is that there is no free land for grazing in Edo State. Grazing is an economic activity just like poultry and piggery or any other agricultural enterprise. The Edo State Government will not cede any land in the state for grazing."
"The governor has continually warned against the politicizing of security issues," he added.
Ogie noted that some political actors are trying to instigate the type of killings witnessed in some states in the country just because they are embittered by the heavy loss they suffered in the political space.
He continued: "Thankfully, their plans have failed because of the pre-emptive actions taken by Governor Obaseki and the security agencies.
"We condemn, in the strongest terms, the current futile efforts by these defeated politicians in the state to cause mayhem and chaos among our people.
"All peace-loving people of Edo State are enjoined to dedicate this Lenten period to pray for peace at this difficult time in the life of our dear country."
Meanwhile, Edo State Deputy Governor, Rt. Hon. Comr. Philip Shaibu on Thursday reassured residents that the government will intensify efforts at providing adequate security to check the rising spate of herders' activities in the state.
Shaibu gave the assurance while addressing the people of Oshodin, Areyen, Okokodo and Ofitebe in Ovia North East Local Government Area, who were on a peaceful protest to Edo Government House over the alleged invasion of their communities by herdsmen.
Shaibu noted, "As a state, we had made up our mind not to lament but look for solutions on how to protect our country and our state.There was also an attack in the early hours of today in Niger State; it's a national problem. As we speak now, Governor Godwin Obaseki and other governors are in Abuja to discuss this insecurity issue in our country.
"You will remember that we are bringing in local vigilantes to collaborate with law enforcement agencies; we are strengthening our system and will still need your support."
He continued: "We don't want to take laws into our hands but at the same time, we cannot fold our hands and watch the people kill us. Take it easy; some bodies are yet to be found, I have had a discussion with the security agencies.
"They will move into that area; I can assure you that they will recover their bodies and we will intensify the security in that area. We will categorize that area as one of the flashpoints so that you can sleep with your eyes closed."
"At the same time, for the young men, we need you not to sleep with your eyes closed so that you can understand what is going on in your areas. We want you to give us information that will be useful to us," he charged.
The deputy governor further urged the residents to provide useful information to security agencies that will assist in the discharge of their duties.
One of the brothers of the deceased, Mr. Gabriel Afemi, said that Fulani herdsmen laid ambush and allegedly killed his brother, Mr. Omojuwa Afemi, calling on the government to come to their aid and tackle the current security challenge in the area.