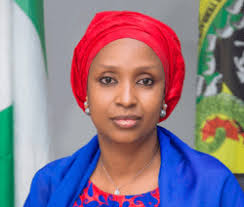 .Warns that trucks parked around Lagos ports will be impounded
.NPA directs shipping firms to own 65%-capacity holding bays
In a bid to ensure smooth operations of the impending Electronic Truck call-up system (Eto) at the ports, shipping companies the managing director of the Nigerian Ports Authority (NPA), says  that only approved trucks will gain access to the ports From Feb 27, 2021
She also warns that trucks found around the ports corridor in Lagos from February 27 will be impounded
Hadiza Bala Usman stated this while speaking at an interactive session with editors on Thursday, stressing that seven trailer parks have been set up in the environs of the Apapa and Tincan Island ports to accommodate trucks.
She also affirmed that shipping companies have been mandated to own and utilize empty container holding bays with capacity for 65 percent of their annual cargo traffic
She noted that the lack of empty container holding bays by shipping companies was part of the root causes of traffic gridlock in the port environs, as trucks rush into the ports to discharge empties
She assured that Eto will deal with the issues around the return of empty containers and loss of container deposits as a result of traffic gridlock.
"All empty containers must be dropped at shipping companies holding bays and at that point importers and their freight agents would access their deposits," she said.
While she noted that shipping companies are already displaying some degree of push back on Eto, the NPA boss posited that part of the annual registration of shipping lines will be tied to their provision of empty container holding bays.
She said Eto would prioritize reefer containers and export cargoes, stating that an export processing segment has been created at Lilypond.
The NPA boss said an app, Eto, has been developed to remove human intervention in the process of calling up trucks.
"Sanitising the ports corridor is to have a designated parking space. If you don't tell people where to park, they will park anywhere," Usman said.
"So we have seven truck parks available in collaboration with the Lagos state government. It means that you can't go into the port if you are not parked in the truck park.
"We are going to get a lot of push back, we have seen push back already. If you are found on the port corridor, your truck will be impounded. We are working with the federal road safety and LASTMA and the police command."
Usman explained that all trucks going into the ports must be parked in the designated area and will be called electronically when the cargo is ready to be picked up.
Congestion has been a common feature at the ports in Lagos.
Efforts made by the federal government to decongest the area, including constituting a task force, has not yielded desired results.
The NPA boss also appealed to port stakeholders to support the innovative e-truck call-up system, assuring that the Authority would continue to have extensive stakeholders engagement.
According to her, eight truck parks have been approved for the  electronic truck call-up system.
Speaking on barge operations, she revealed that NPA has developed Standard Operating Procedures (SOP) for barge operations, stressing that there will be stricter licensing regime for operators.