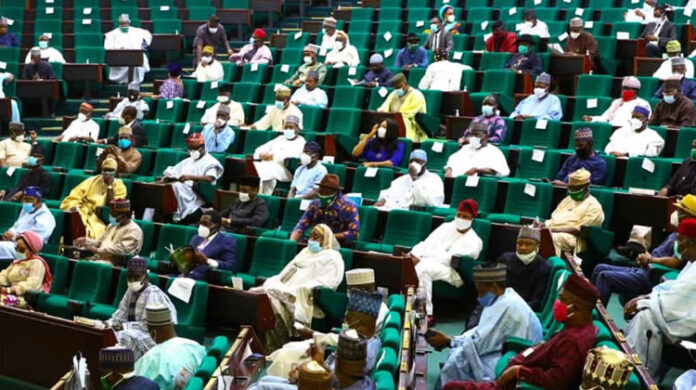 **Gives SGF, Accountant-General,DG Budget 2 weeks to appear.
From Jonas Ezieke, Abuja
The House of Representatives Committee on Public Accounts on Wednesday grilled the Acting Chairman of the National Salaries, Incomes and Wages Commission NSIWC who was immediate past Chairman Independent Corrupt Practices and Other Offences Commission ICPC Mr Ekpo Nta over failure to render audited accounts  of the NSIWC for five years.
The Chairman of the House Committee Hon.Oluwole Oke and other lawmakers were stunned when the representative of the Audtor-General of the Federation Miriam Ibrahim said at an investigative hearing on audited accounts of government agencies that there is no record on audit of accounts of the Salaries and Wages Commission.
The Committee helmsman had earlier demanded that Acting Chairman of the NSIWC Mr Nta make available to the House Committee the details of the rendition of its audited accounts to the Auditor-General's office from 2014 to 2020.
According to the Auditor-General's office, there is no information on the official records of the office in respect of rendition of accounts of the salaries and wages commission.
The Acting Chairman of NSIWC had earlier told the committee that the agency is an extra-ministerial department that is audited 100 percent by the Auditor-General's office.
He further said that all the audited accounts of the agency is domiciled in the office of the Auditor-General of the Federation.
However, the Committee chairman and other members who expressed dismay with the disscudant tunes between the Ex-ICPC boss and the Auditor-General's office on the matter said that there is gross misconduct by the NSIWC officials.
A member of the Committee Hon.Bulus Maren (PDP, Platieau) said that there is no way the acting chairman that headed an anti-corruption agency would not know that non submission of audited accounts to Auditor-Genaral's office has implications.
In his ruling, the Committee ask its Clerk to invite the Secretary to Government of the Federation SGF, Accountant-General of the Federation and the Director-General Budget Office of the Federation to appear within 2 weeks to shed more light on the matter.
Oke said that the NSIWC which was established in 1993 has been mismanaged by some public officials that previously headed the agency and what the committee should do is to invite the aforementioned top government officials.