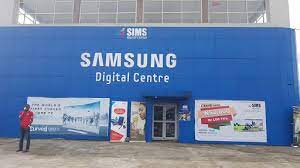 SIMS Digital Centres, the official representatives of Samsung, Royal, Panasonic, and other international brands in Nigeria has opened an ultra-modern branch in Ibadan to offer residents of the ancient city the quality and wide assortment of products that other major locations across the country have been enjoying.
Located at 224 Awolowo Way, Oke-Ado Street, Ibadan, Oyo State, the new SIMS Digital Center is a state-of-the-art multi-level outlet offering a new immersive experience in electronics and home appliances shopping.
According to the SIMS Executive Director (Corporate Services), Mr Fabian Uzor, the new SIMS Digital Center in Ibadan is positioned to provide residents and surrounding environs the best of electronics and home appliances where the value of a customer is a priority. This way, consumers do not have to go too far to enjoy the best combination of quality and price.
He further stated that the ultra-modern experience center guarantees efficient customer service, backed by innovative technology and excellent after-sales support to all customers. In line with this people-oriented market positioning, SIMS is also celebrating the opening of the new Digital Centre by offering amazing giveaways to members of the public as they make their purchases.
The magnificent Ibadan outlet is the latest in SIMS' continuously expanding network of very attractive digital centres strategically spread across major cities in Nigeria, like Lagos, Abuja, Port Harcourt, Onitsha, Owerri, Awka, Kaduna and Uyo.