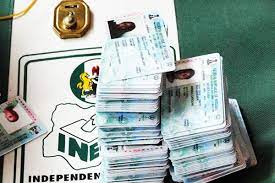 Irked by the inability of some eligible Nigerians to go and collect their Permanent Voters' Cards, PVCs, from Independent National Electoral Commission, INEC offices, scattered all over the place, to enable them vote in the coming , general election, the Anglican Bishop on the Niger, the Rt Rev. Dr Owen Nwokolo, said PVC was a weapon to enthrone good governance.
He consequently, appealed to Nigerians, irrespective of their political affiliation, faith and tribe, to get their voters' cards and be ready to cast wisely during the forthcoming election.
The Bishop assured those apprehensive of the workability of the election to discard such mindsets saying that their votes would count.
The Rt.Rev. Dr Nwokolo, made the call in a formal speech he made at the C. J. Patterson auditorium, Onitsha, during a luncheon to mark the 2023 Diocesan Knights of St Christopher Family Day and  Rededication held Thursday.
"You are all aware of the forthcoming election and you are here requested to get your voters' cards and during vote, vote wisely according to your conscience.
"The assignment should be taken seriously by every Nigerian, since the election is a veritable opportunity through which a better change can be engendered in the country," he posited.
"You will, however, begin by making sure that your voters' cards are collected. If you have not collected your own, we appeal to you: go and collect them now. Votes will count this time in this election.
"One vote is important, it can make the difference. One vote can qualify a two-third majority. One vote can be the winning vote for whoever you want to vote. We want a change, for we want a better Nigeria. So make sure you vote, by first, collecting your voters' cards. If you have, look for it.
 "Don't wait till the election morning you begin to search for it, you may likely not see it in such a hurry. Look for it now and keep it where you will remember and where you can retrieve it with ease", he urged every Nigerian.
He prayed for a hitch-free and fair election, appealing on Nigerians to always pray and work hard for a better and stronger Nigeria.