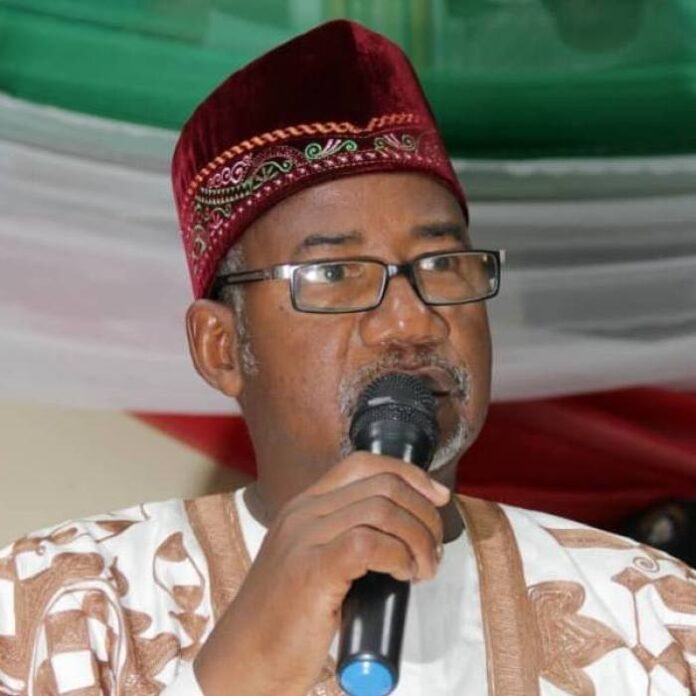 SELYA YARNAP, Bauchi
The Northern Youth Leaders' Forum (NYLF) has on Wednesday appealed to the Bauchi state Governor, Bala Mohammed to contest the seat of the president of Nigeria in the 2023 presidential election.
Speaking during a courtesy visit to the Governor at the banquet hall of the government in Bauchi,  the National President of the Forum, Comrade Eliot Afiyo said that the youths will work against Bala's future political interest if he declines the offer.
According to Afiyo, the forum which comprises of 42 northern sub-groups has taken upon itself, the responsibility of shortlisting, investigating, screening and endorsing credible candidate for every presidential election as bestowed on it by its patrons since 1999 to date.
The Youth National President who noted that one of the objectives of the forum is the political interest of the north, especially in a democratic despensation, added that the forum was saddled with the task by her patrons since 1998 and has remained faithful despite threats, intimidations and inducement.
He said that the forum during its 27th delegate conference in Yola, voted and endorsed Governor Bala Mohammed as its preferred presidential candidate come 2023 general election.
He added that 27 prominent Nigerians were shortlisted for screening by its political Commitee headed by its southeast zonal coordinator, Doctor Sani Musa during its NEC meeting in Gombe state.
He said that the forum took interest in Governor Bala when he defeated a sitting Governor in the 2007 senatorial election, adding that, "snce then our intelligence Commitee by my humble self decided to give His Excellency a close watch, this you may not know".
Comrade Afiyo further said: His Excellency's boldness and overwhelming passion for truth and justice which came to public notice when he displayed against all odds in the senate by introducing the doctrine of necessity which brought peace, order and tranquility in the nation, gives us assurance that one day, a desired and respected president will emergez to take us across the red sea".
According to him, Bala's performances as the minister of F.C.T and his two years leadership in Bauchi State is indeed a magic wand that settled and established the forum's heart as well as that of majority of Nigerians, that the Governor will take the country to it's promised land.
Governor Bala Mohammed while responding described his endorsement by the forum to run as a presidential candidate in 2023 general election as a great honour not only to him, but the entire people of Bauchi State and all upcoming politicians in Northern Nigeria.
The Governor said that the leadership recruitment by the forum is worthy of emulation, pointed out that he has never induced the group with one kobo.
2023 presidency: PDP Rejected Atiku, Considering Tambuwal, One Other Governor – Adeyanju Reveals
Deji Adeyanju, an Abuja-based activist, on Wednesday hinted on candidates the Peoples Democratic Party (PDP) stakeholders are considering to field as presidential candidate in 2023.
Adeyanju, convener of Concerned Nigerians claimed that PDP stakeholders are considering either Governor Aminu Tambuwal of Sokoto State or Governor Bala Mohammed of Bauchi State.
In a series of tweets, the former PDP member claimed that the party's stakeholders are tired of fielding Atiku Abubakar as its presidential candidate.
The activist claimed that PDP stakeholders are angry with Atiku for allegedly abandoning the party in the 2015 elections.
According to Adeyanju: "PDP stakeholders want to present Tambuwal or Bala Mohammed both serving Governors as presidential candidates and someone from South as VP in 2023.
"They say everybody is tired of the Dubai man with dollars. Why won't you guys present him now? I want to see you guys in opposition for 16yrs.
"Many of them are so pained that the man abandoned their party after the election and relocated to Dubai for two years but is now back to start campaigning for another ticket.
"The only way PDP can get real sense is if they spend 16yrs in opposition. APC should present an acceptable candidate in 2023."