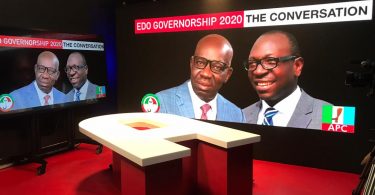 AHEAD of the Saturday's governorship election in Edo State, the Conference of Nigerian Political Parties and the Youth Initiative for Advocacy, Growth and Advancement, (Africa), has condemned the Federal Government's empowerment programme in the state, describing it as advance vote buying by the All Progressives Congress.
Also they flayed the President, Major General Muhammadu Buhari  (retd), for allegedly approving  the empowerment programme for 2,000 women and youths in Edo State four days before the election
A television commercial, advertising the programme which supposedly held on Tuesday, September 15, has gone viral and some stakeholders in the state believe the programme was to induce voters.
The TV commercial with a lady's voice says in part, "The President of the Federal Republic of Nigeria, His Excellency, Muhammadu Buhari GCFR, has approved the disbursement of Micro Enterprise Enhancement Scheme (MEES) to 2,000 women and youths in the three senatorial districts of Edo State."
No name was mentioned to have signed it and the station which aired it was not stated but some residents said the programmed was had as announced.
In another video supposedly shut at the venue of the empowerment programme, some women wearing fez caps marked POI and another woman wearing a cap with All Progressives Congress colours were seen distributing bundles of Ankara fabric to some women.
The beneficiaries were seen tendering what looked like voter cards after which their names would be checked in a register and the bundle of the fabric handed over to them.
But the state Chairman of CNPP, Roy Oribhabor, who spoke in a telephone interview with one of our correspondents, said an empowerment programme few days to the governorship election was nothing, but vote buying.
He called on Buhari to discourage such act, adding that advance vote buying should not prevail in a democracy.
"To us in the CNPP in Edo State, it is a gimmick to make the Edo voters to lose their direction by way of swaying them. You cannot expect a woman, who received N10,000 barely few hours before election not to be swayed  because we are in a society where poverty is at its peak.