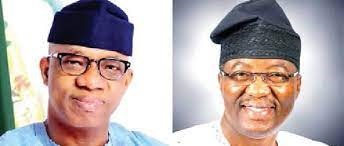 ….Abiodun, Daniel pay condolences
A former Minister of Finance, Dr Onaolapo Soleye, is dead.
Soleye, who was the finance minister during the military regime of General Muhammadu Buhari (retd.), passed away just four days after celebrating his 90th birthday on Saturday, November 11, 2023.
According to a statement released by his family on Wednesday, the former minister died in the early hours of Wednesday, November 15.
The statement read, "With heavy hearts but with gratitude to God Almighty for a long, impactful, and positively eventful life, the family announces the passing of Pa Dr Onaolapo Soleye, the father of our late brother, Maj Gen OO Soleye (retd.). He turned 90 years old only last Saturday.
"Papa served the country and humanity in various capacities rising to the position of an Associate Professor in the University of Ibadan, Commissioner for Works in Ogun State, and Minister of Finance of the Federal Republic of Nigeria among others.
"He was a true lover of God and humanity and this translated into his unwavering commitment to church activities as well as ready support and assistance to all who came across him, in any way that he could.
"The loss of Dr Soleye is surely not that of the Soleye family alone. It's our father that has just passed and we must all prepare to be part of his rites of passage.
"Burial details will be announced by the family in due course. Until then, please pray for the repose of Papa's soul and God's comfort upon his family and other loved ones."
Meanwhile, the Ogun State Governor, Prince Dapo Abiodun on Wednesday described the passing of former Finance Minister, Dr. Onaolapo Soleye as a great loss to Ogun State and Nigeria at large.
Dr. Soleye was a former minister of finance between 1984-1985 during the military regime of General Muhammadu Buhari.
He served for twenty (20) months as Minister of Finance. At a time, he also served as Commissioner for Finance and Industry in Ogun State.
His death was announced in Abeokuta, the Ogun State capital, on Wednesday by his family.
Prince Abiodun, in a statement by his Chief Press Secretary, Lekan Adeniran, said Dr. Soleye's invaluable contributions to the financial sector of Nigeria and his home state, Ogun, will forever remain green in the memory.
"Dr. Soleye's remarkable career in public service, spanning several decades, exemplified his unwavering commitment to the development and progress of Nigeria.
"As Minister of Finance, he played a crucial role in shaping our nation's economic policies, implementing reforms, and fostering sustainable growth.
"His visionary leadership and expertise were instrumental in navigating the challenges and opportunities of our evolving economy.
"Dr. Soleye's demise leaves a vacuum that will be difficult to fill. He will be remembered as a statesman, a mentor, and a role model for future generations to come. His wisdom, integrity, and dedication to public service serve as an inspiration to us all.
"On behalf of the government and people of the state, I extend my deepest condolences to the family, friends, and loved ones of the nonagenarian.
"May his soul rest in eternal peace, and may his legacy continue to inspire us to strive for excellence and work towards a better Nigeria," Prince Abiodun said.
In his own condolence message, a former governor of Ogun state and Senator representing Ogun East Senatorial District, Otunba Gbenga Daniel described the former finance minister as a Remarkable Man.
Senator Daniel said the former Commissioner for Finance in Ogun State distinguished himself as a prudent financial manager, and acquitted himself as a first-class economic administrator in the application of Nigeria's resources.
He noted that his commitment to a better Nigeria was unwavering.
"It is with a heavy heart that I mourn the passage of Dr. Onaolapo Soleye, a remarkable man whose unwavering dedication to acts of kindness and good deeds impacted greatly on a lot of people.
"I bear true testimony to the facts about Dr. Soleye as a great leader, a mentor and a man of impeccable principles who inspired countless individuals. As an alumnus of the Baptist Boys High School, Abeokuta, he was a great inspiration and mentor to many of us.
"The passage of Dr. Soleye is a personal loss to me because I share very deep relationships with him as a younger friend and confidant. I benefited immensely from his several unconditional supports during trying times.
"My deepest condolences to members of his family; the Olowu of Owu Kingdom, Oba Matemilola; His Excellency, Chief Olusegun Aremu Obasanjo, GCFR, former President and Commander-in-Chief of the Federal Republic of Nigeria (who is also Dr. Soleye's bosson friend); sons and Daughters of Owu Kingdom and Egbaland in general at this painful and trying times as I am consoled by the legacy of good deeds and forthrightness that Dr. Soleye left behind."