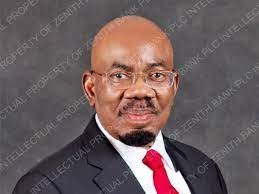 Experts in the Information Technology, IT sector of the Nigerian economy are upbeat as they converge on the Eko Hotels and Suites, Victoria Island, Lagos on Wednesday November 22 for theThird Edition of the Zenith Tech Fair themed Future Forward 3.0 to be graced by Mr. Jim Ovia, CFR, Founder and Chairman, Zenith Bank Plc, Dr. Bosun Tijani, Minister of Communication, Innovation and Digital Economy and other eggheads in the sector.
Already arrangements have been finalized to ensure a hitch-free two-day event which will feature a welcome address by Mr. Ovia, opening remarks by Dr. Ebenezer Onyeagwu, Group Managing Director/CEO of Zenith Bank Plc and Chairman, Body of Banks' CEOs, Nigeria as well as goodwill message by Dr. Tijani. Dame (Dr.) Adaora Umeoji, DMD, Zenith Bank Plc is the Chief Organizer.
Fashioned after such global technology events as the Consumer Electronics Show (CES) in the United States and EmTech Asia, Singapore the fair will expose participants comprising individuals and organizations to emerging technology breakthroughs that cut across different human endeavours, such as Artificial Intelligence, AI and Machine Learning, Computing, Blockchain, Robotics and Drone Technology, Big Data, FinTech, Augmented Reality, Data Analytics, 5G and Communication Technologies, Payment, e-Commerce, e-Sports and Games, Health, Lifestyle and Cybersecurity, AR/VR Immersive Technology, and Internet of Things,
among others.
According to a preview posted on the Bank's website, the high profile gathering which will also feature Hackathon sessions to select 10 of the best innovative startups in the country for grants by the bank, a panel discussion on "Driving the Global Trade Revolution with Technology –Current Transformation Trends", Masterclass focusing on special access to practical, industry expert-led skills workshops and experiential exhibition on new tech realities by participants.
The galaxy of experts expected from within and outside the country to brainstorm at the fair include Chris Lu, MD Huawei Nigeria, keynote speaker; Dr. Doris Uzoka-Anite, Minister for Industry, Trade and Investment; Dr. Blaise Ijebor, Director of Risk Management Central Bank of Nigeria, CBN; Premier Oiwoh, MD, NIBSS; Wole Odeleye Technology Lead, Financial Services, Microsoft; Stanislaw Martins, Regional Meta Director, SSA Alep; John Obaro CEO, Systemspecs; Shweta Juneja, Partner, McKinsey Digital Doha; Keenan Sigh EMEA Banking Industries Lead, UiPath, United Kingdom; Andrew Uaboi, VP and Cluster Head, Visa West Africa and Ebehijie Momoh Country Manager Mastercard.
Other notable speakers slated for the event are Vincent Ogbunude MD Verve; Fey Wong Country Manager, Palmpay; Demola Sanusi Solutions Architect, Amazon Web Services; Temitope Aladenusi Partner and Leader Cybersecurity, Deloitte; Adeola Agbebiyi MD, Network International; Eli Umeh Founder and CEO Terragon Group; Prince Nnamdi Ekeh CEO Konga; Tunde Kehinde MD, Lidya; John Obidi Author and Founder, Headstart Africa; Seyi Banigbe Entrepreneur and Founder, Bland2Glam and Ope Ajayi Founder and CEO Cinemax.
Recall that the first edition of the Zenith Tech Fair was held on November 27, 2019, at the Landmark Events Centre, Victoria Island, Lagos. Tagged 'Future Forward', the fair featured a Hackathon which produced ten winners, including Octave Analytics Limited, who won the grand prize of N10m; Neohaul Technologies, the first runner up who received N6m prize; and reQuid Technologies, the second runner up who won N5m.
The Second Edition of the Zenith Tech Fair, themed "Future Forward 2.0", held on Tuesday, November 22 and Wednesday, November 23, 2022, at the Eko Convention Centre, Eko Hotels & Suites, Victoria Island, Lagos.
To register and participate, visit www.zenithbank.com/techfair. After registering, you will receive a confirmation email. The fair will be live on Zoom for participation and streamed on the bank's social media pages including YouTube.