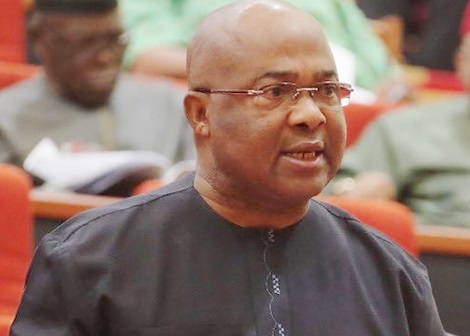 From Victor Duruamaku  Owerri
Imo State chapter  of the People's Democratic Party (PDP) has alleged that the  Present Administration of All Progressive Congress(APC) in the state has so far witnessed more blood shed and starvation than the previous administrations
In a statement issued in Owerri Monday by the State Publicity Secretary of the party, Mr Emenike Nmeregini made  the allegation and  recalled what he described as unfortunate,  the January 14, 2020  incident when power suddenly was taken away and given to APC
According to the  statement the controversial Supreme Court judgement that truncated the gubernatorial mandate that was given to their part flag bearer Hon. Emeka Ihedioha during the March 9th governorship in the state led to whatever problem faced in the state
.
Nmeregini further alleged that the APC led administration in the state  " has without remorse, abdicated the primary obligation of government as prescribed by the Constitution, which is the security of lives and property"
The party continued,  " the present administration has politicized  the security situation in the state which has continued to gulp countless innocent lives, everyday, raising the faer that today, bandits, terrorists, cannibals, kidnappers and unknown gunmen are almost overrunning the State".
He raised alam  that " most areas in Orlu Zone are currently under the firm grip of gunmen, a situation that has  kept thousands of our citizens internally displaced"
The party spokes man  added,  "our party and indeed the people of Imo State regret that the present administration suspended and dismantled all the foundations and programmes our Rebuild Imo administration painstakingly put in place in all the sectors towards the rebuilding of Imo State".
The Party said" our administration  commenced the Treasury Single Account, Autonomy for local government system, Technical and Skills Development Colleges, Automated Payment System for prompt payment of salaries and pensions, agricultural revolution,  infrastructural revolution, civil service reform, revival of ISOPADEC, Technology and ICT development, qualitative free education etc"
According to  Nmeregini,  the party  noted that  the present administration in the state  has accessed over N59 billion loans from foreign and domestic sources,
He said: " with over N103 billion which has come to the local government areas from FAAC under Uzodinma, the N105 billion which has come to the State also from FAAC, the N24 billion which the State has internally generated and the N10 billion which represents the 13% Oil Derivation, it is heartbreaking that there is nothing in Imo to show for the monies"