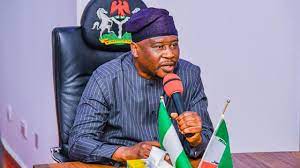 … PDP governors says Democracy won.
… Atiku celebrates, thanks Nigerians for resisting enemies of democracy
The Independent National Electoral Commission, INEC has declared Governor Ahmadu Fintiri winner of the 2023 governorship election in Adamawa State.
Ahmadu Fintiri polled 9,337 in the supplementary polls to bring his total to 430,869 while Senator Binani got 6,513 in the supplementary elections, bringing her total figure to 398,788.
Meanwhile the PDP Governors Forum has congratulated Gov Fintiri on his reelection saying that with the victory, democracy has won.
 In a statement, the chairman of the Forum, Governor Aminu Waziri Tambuwal said, It was a hard fought and hard won victory not just for Gov. Fintiri, but also for Adamawa State, democracy and due process in Nigeria.
"Indeed, Nigeria has just been rescued from descent into the abyss. We have just has dodged another bullet.
"We commend INEC for redeeming itself and hopes that this is a harbinger of things to come. It is in this regard that the Commission is requested to promptly re-visit all other elections where infractions have been identified. Where the matters have been taken to the Tribunal, INEC should assume a garb and toga of neutrality and inform the Tribunals of the actual events that transpired in the elections. It has been shown by today's development that INEC can reverse itself where mistakes have been made.
"We call on Gov. Fintiri to continue to justify this huge mandate and trust of the people of Adamawa State."
Also speaking, the PDP Presidential candidate, Atiku Abubarkar in a statement congratulates Gov Fintiri, on his deserved reelection as governor of Adamawa State.
"Thank you to the people of Adamawa and men and women of goodwill for staying the course in resisting coupists and enemies of democracy from having their way. The lesson from this exercise and others is the need for Nigerians to be vigilant and never give in to anti-democratic forces whose objective is to snatch, run with and undermine the mandate of the people as freely expressed in their votes. By the way, it is not yet uhuru as we still have one more major mandate to reclaim, and together as ONE, we shall accomplish the task for the good of our country and its people."