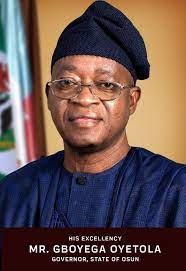 The Minister of Marine and Blue Economy, Mr Adegboyega Oyetola, says there is need for immediate rehabilitation of the critical infrastructure at the Apapa and Tincan Island ports
Oyetola said this during his maiden visit to the Tincan and Apapa Port on Monday in Lagos.
The minister also urged terminal operators to support the Federal Government in the rehabilitation of the port.
According to Oyetola, the rehabilitation of the port is going to be a collaboration between government and the terminal operators.
"My coming out today is to see things for myself. I have seen the challenges, the need to actually do a lot of things about our port.
"Infrastructure are almost collapsing from what I have seen, so a major rehabilitation has to be carried out.
"I am looking forward to the terminal managers beginning to contribute to the rehabilitation of the port.
"Its important and if they do that, they will make more money for themselves," he said.
The minister pointed out that he was impressed with the management of the ports so far, adding that he would support them.
As regards the quay wall, he noted that he had asked NPA for a report of what they had carried out so far, adding that they need to know the numbers to be able to sort them out to get the president's approval.
Oyetola said he believes that the blue economy is a sector that will generate revenue for government, adding that the country needs the infrastructure to balance up.
"If we have the right infrastructure in place, it will be a way of domestication of the economy.
"We rely so much on oil.  So a lot of other opportunities have been untapped for so many years. I think we must commend the president for taking this initiative, I believe we can do it.
"To address the collapse of the port, there is need to rehabilitate the port as a matter of urgency, dredging has to continue," he said.
The minister added that as regards access road, it would be looked into it and he would engage the Minsters of Works and Transportation to see what they could do together.
"I have discussed with the Minister of Transportation in respect of the rails. With all these things in place, I think we are good to go.
"On issues at the other ports like the eastern one, it will also be addressed. We are looking at the totality of the port," he said.
On his part, Mr Mohammed Bello-Koko, Managing Director, Nigerian Ports Authority (NPA) commended the minister for visiting the port and for supporting the agency.
He assured the minister of the agency's support in line with the Federal Government's agenda.(NAN)(www.nannews.ng)