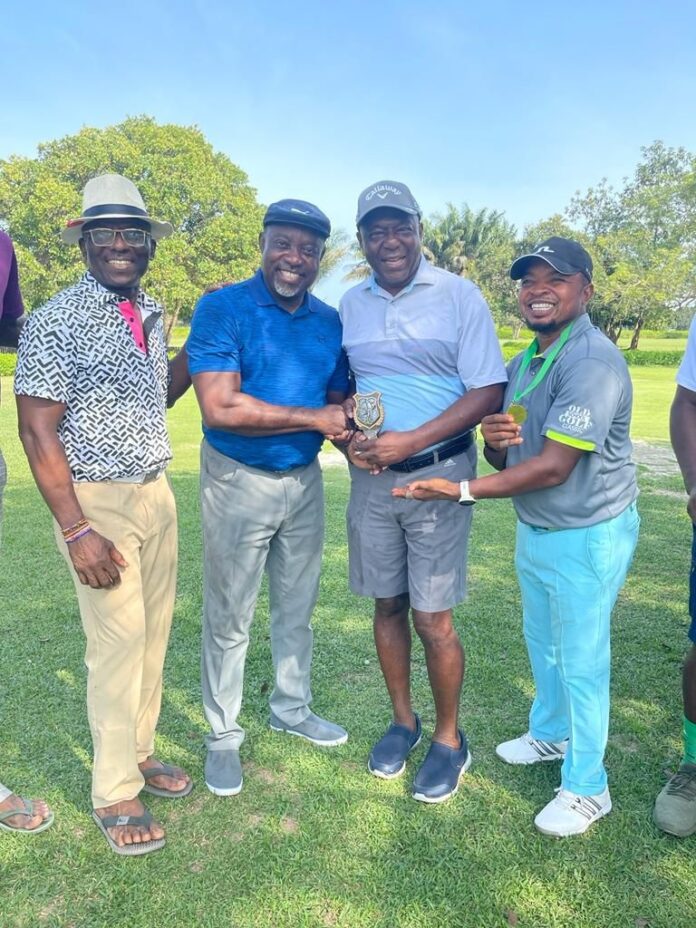 -Maritime stakeholders embracing the game of golf is a welcomed development- Abuja MOU Secretary General.
The owner of one of Nigeria's biggest Tug supply Vessels MV Atlantic Brigand Dr Augustine Ndubisi this weekend won the Lord Wilson golf open tournament which took place at Lakowe Lakes  Golf Resort in Lagos. Mr Ndubisi who plays off handicap 17 won with One stroke under the course par while   The Secretary General of Abuja MOU, Captain Sunday Umoren who plays handicap 28 came a close second position with two strokes over par. A Lagos-based banker Okposo  Hector came third. The individual medals were won by Emmanuel Emoghware a marketing consultant who won the medal for nearest the pin on the par 3 14th hole while Mendes Seun won the medal for longest drive with a Tee shot of 248 meters on the par 4 18th hole.
Speaking shortly after receiving his trophy, Abuja MOU Secretary General Captain Sunday Umoren welcomed the participation of more maritime stakeholders in the game of golf. " I am delighted that shipowners now join us in the game of golf. I look forward to the day Nigeria will host an international golf tournament for maritime stakeholders.
On his part, Mr Augustine Ndubisi assured that he will drive the process to encourage Nigerian Maritime industry players to embrace golf.
Mr Bayo Alli of ARM Group, owners of Lakowe Golf course said that the Management of Lakowe course is committed to organizing National and international tournaments to ensure Nigeria is recognized globally in the game of golf. He expressed delight at the interest stakeholders in the maritime sector now have in the game of Golf.
Lakowe Lakes Golf course is arguably Nigeria's number-one Golf course